By ChihChi Wang
This woman, besides being my friend, is also a mom (in the first place), a stylist and the co-founder of showroom Circle & Point in Taiwan. SPEKTRE eyewear, the last favorite brand of socialites, is one of the Italian brands that their agency represents in Asia.
Tsai Ling and I met each other in Milan years ago. She was about to do her further study focusing on fashion styling in Istituto Marangoni after some years of working experience as an assistant fashion designer and a professional stylist in TVC and in cinema industry in Taiwan.
She is definitely one of the most stylish women that I've met in my life. However, as a multiple identity mom, I am quite interested in if she is always so modish all the time, all day, or just when we have a date. Let's see her 7 outfits over a week, including the one for the traditional market shopping!

#Thursday – Working in Progress! 🍎
Time: 09:00
Top & Shirt: UNIQLO U
Jeans: H&M
We are doing the last touch of our showroom's interior decorating. In two days we'll hold a family & friends sale on occasion of the new opening. No time left, need to run run run, so a practical outfit is what I need. Easy, casual, no afraid of dirty but being sharp at the same time.

#Friday – Light Checking 🍍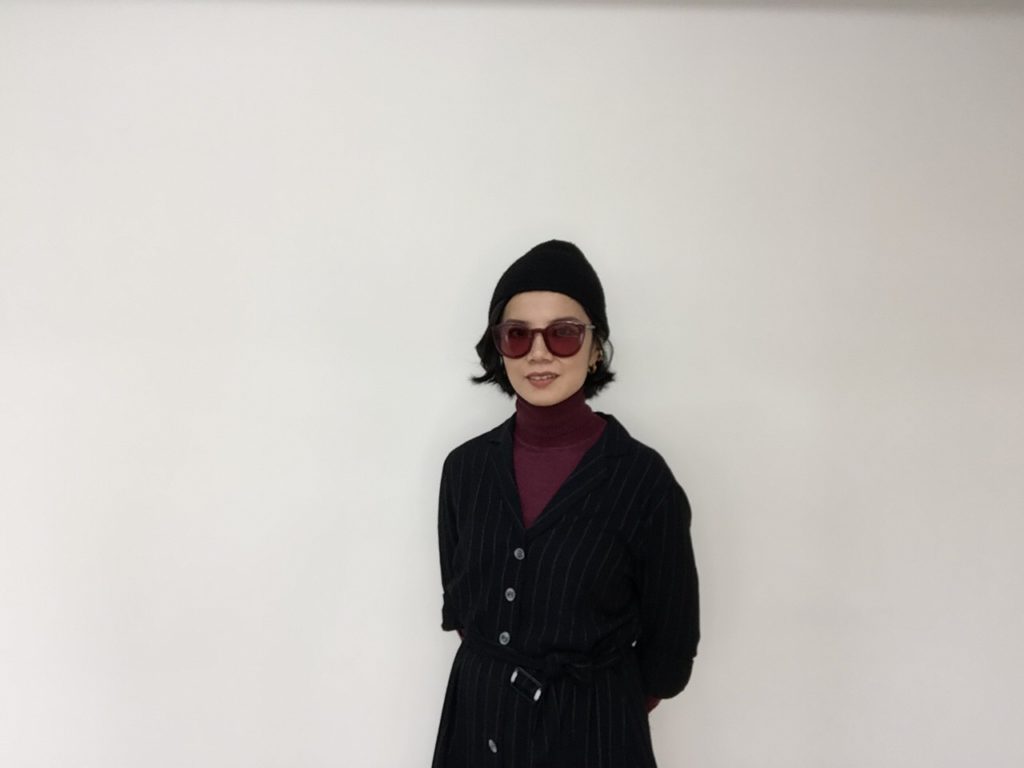 Time: 11:00
Bennie: H&M
Sunglasses: SPEKTRE Denora
Turtleneck: MUJI
Trench: COS
We finally got a brand-new office, all well done as what we expected! A small photo studio set that we ordered online arrived this morning, light testing for tomorrow's event! I am wearing a bit more due to the cold current in Taipei now. A navy pinstripe trench makes me look formal for the office time, but you know it's Friday, so I add a knit beanie to make my look more capsule but chic!

#Saturday – The Day 🍉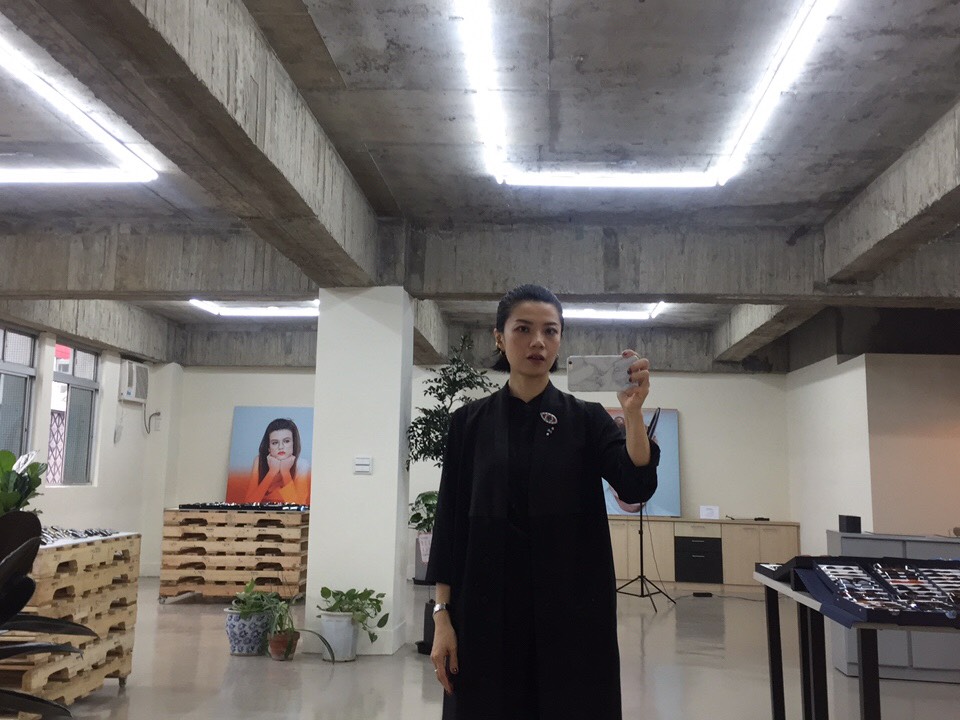 Time: 10:00
Coat: COS
Brooch: vintage
Shirt: NEIL BARRETT
Watch: ROLEX
It's the day! After months of work and preparation, finally, it's the day that we open our new showroom to friends, taking some drinks, chitchats and doing eyewear shopping together! This is the first day of this two-day event, I choose to wear a totally black, professional formal outfit. All back hair style to being sharp and chic. The brooch is to give light to this all dark look.

#Sunday – Another Day with Black 🍇
Time: 17:00
Blazer: RALPH LAUREN
Shirt: NEIL BARRETT
Paints: ZARA
Sunglasses: SPEKTRE Dechirico
Brooch: vintage
Oh yes, I know, it's so boring, but I love wearing all black for the important moments! It always makes me feel proper and like I am in any time ready to go even if coffee spilled on me because it can't be seen (ha!). Therefore, another black day but with a velvet Ralph Lauren blazer with a sharp cutting today. All hair back again to keep my attitude!

#Monday – Finally Yoga Relax 🥝
Time: 12:30
Sweater: UNIQLO KAWS x SESAME STREET
Pants: no brand
Socks: DISNEY
Bennie: H&M
After a tough and stressful week, it's time to get some mental relax by doing my favorite sport – yoga. It is kind of my scape away from everything, my two kids, my husband, and my work! Two hours only dedicate to me and myself. No make-up ever when I do work out, it's not good for skin. Clothes with a sense of childlike make me feel relaxed, casual with some fun, yet stylish.

#Tuesday – Weekly Grocery Shopping 🍊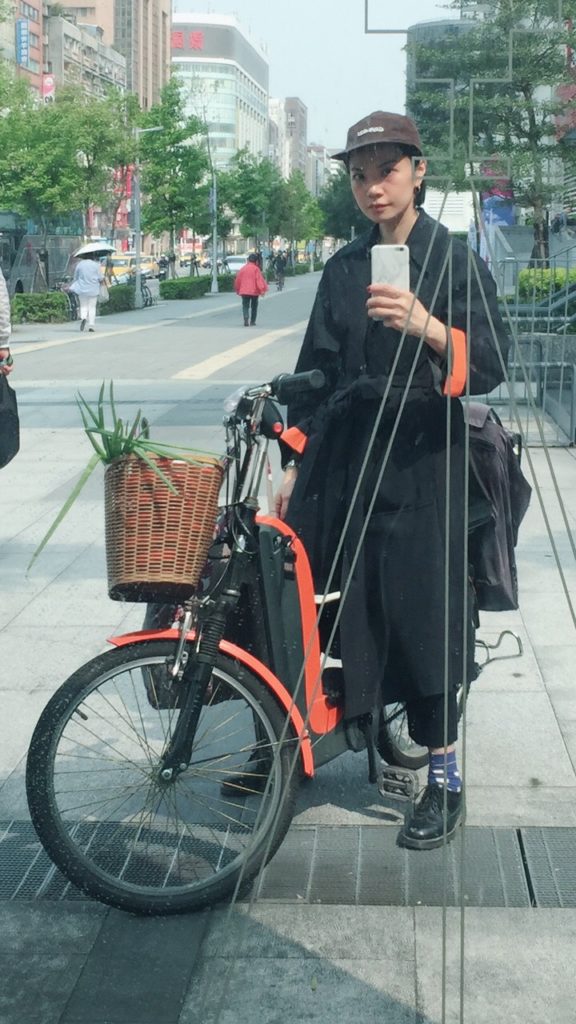 Time: 08:00
Cap: GRAMICCI
Trench: from a selected shop
Socks: BONNE MAISON
Shoes: DR. MARTENS
Electric bike: KUKUMA
I love traditional markets, doing grocery shopping there every week is one of the ways how I integrate into my neighborhood. But as we all know, the early bird gets the worm, a large and stylish trench is always on the top of the list when I need to wake up early in this season and go out for a grocery shopping. Not only it's windproof but it also means that I don't need to waste my time to think which top goes well to which bottom and can sleep a few minutes more!

#Wednesday – Girls' Shopping Day Out! 🍌
Bennie: H&M
Turtleneck: MUJI
Blazer: [FROM]
Pants: ZARA
Socks: UNIQLO
Sneakers: ADIDAS x KOLOR
It's not that easy to hang out with friends and go shopping together with "calm" after being a mom, so every time if I got the chance, I always feel very thankful! My favorite style is like this, let's say "casual classic", a Prince de Galles boyish blazer with a nylon backpack and a pair of colorful sneakers, perfect for a long walking girls' shopping day out!
ANY CHANGES TO YOUR STYLE AFTER BEING A MOM?
TL: Definitely! First of all, I don't wear high heels anymore because the need to run here and there after kids and job every day; the second is that I rarely do full makeup now but only red lipsticks, just to give a "fake good color" to my face!

WHAT'S YOUR STYLE PHILOSOPHY?
TL: Dress like yourself with your own identity and attitude instead of chasing after the trend blindly.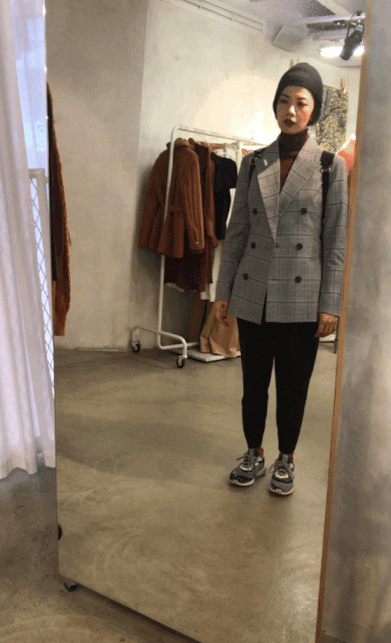 π