[ FROM ] silky waist tie jumpsuit
By Giusy Noce
Eva Geist (real name Andrea Noce)
Sound designer, live performer and producer based in Berlin, Andrea studied Performative Arts and New Media in Rome. In 2016 she accomplished an advanced training in sound design in Berlin. In Summer 2014 she gave birth to her solo project Eva Geist. Her latest album "Desfãn" was released by the French independent label Macadam Mambo. Geist, together with Berlin based Laura ODL (Ondula) is half of the duo As Longitude (Knekelhuis /NH).
WHO YOU ARE IN THREE LINES?

I am Italian. I love sound. I love traveling and nature.
WHAT KINDA MUSIC DO YOU PLAY?

I am an electronic live performer. I play sequencers, synths and drum machines. I record my own loops and sounds and make sequences with them. I use vocals as well. I like beats, but my music is not strictly dance music.
WHERE DO YOU USUALLY PLAY?

I play in clubs, festivals and events which promote alternative electronic music, around the world.
WHAT DO YOU LIKE TO WEAR DURING YOUR PERFORMANCE?

I generally like to wear comfortable clothes. Sometimes t-shirt and sneakers when I am on the go. I got a silk effect jumpsuit of [ FROM ] for my Australian New Year dates, it is super cozy while looking precious. I can wear sneakers or flat sandals to complete the look, to be elegant with a sporty touch. It's perfect.
YOU TRAVEL A LOT, IS THERE A GARMET OR AN ITEM THAT YOU ALWAYS CARRY WITH YOU?

A tarot card and a lapis lazuli.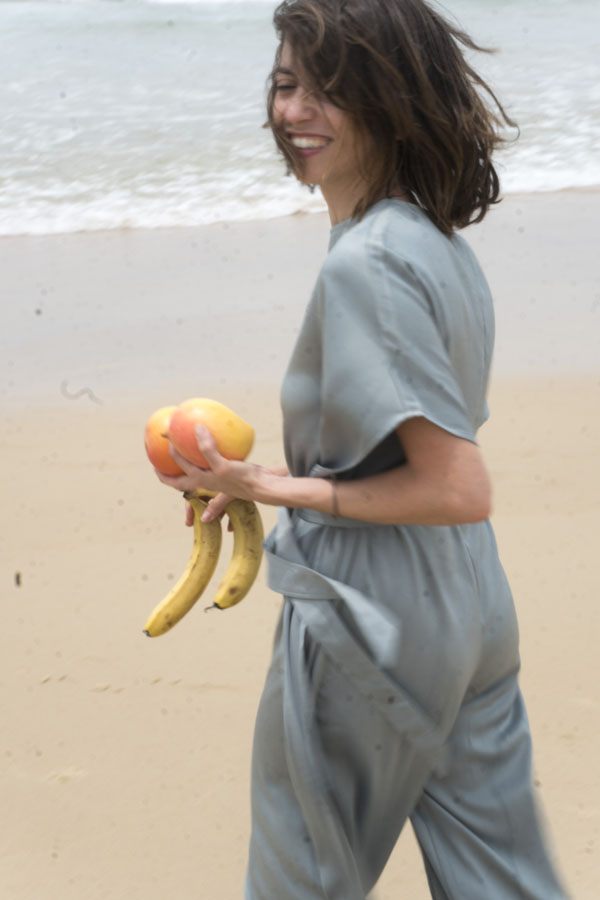 CAN YOU TELL US SOMETHING ABOUT YOUR AUSTRALIAN TRIP AND WHAT DO YOU THINK ABOUT THIS COUNTRY?
I've been invited to play at Animals Dancing for New Year party in Melbourne, and I played at Pic Nic Stuff in Sydney as well. I loved both cities, and I also took some time off to explore the natural beauties of the East Coast. I felt very welcome from the very beginning. I enjoyed the Australian audience a lot, people are open, easy going and kindly crazy. I made a lot of new friends, and the food is insane! Australia is top and conquered a special place in my heart.
WHO IS THE COOLEST PEOPLE YOU'VE EVER MET IN YOUR TRAVEL?

It's a hard one! People gathering to dance and celebrate music are globally connected and are all very cool. It's viral. Berlin is always a lot of fun, cause people are hedonistic and uninhibited. I enjoyed Melbourne people a lot as well, for the spontaneity and the easy-going attitude.
π