by ChihChi Wang

Du Ye (aka Bibi) is a late 80s' girl from ZhenJiang, an old and historical city in JiangSu province which is situated in southeastern China.
First time when I met Bibi was in late winter of 2016 for a fashion PR interview, it was in my office in Shanghai, and she showed up in a Loewe camel cashmere oversized coat, Puzzle bag from the same brand, a black turtleneck knit dress and a pair of shocking red Gucci moccasins, which reflected to her bright red lips. Sophisticated and stylish are two adjectives that came to my mind immediately, but I also told myself at the same time: Oh no! Another rich kid's here! No offensive, however after times of interview that I made with several wealthy children who intended to be a fashion PR manager right after school or who just dreamed to show up in vanity fair events instead of packing/unpacking sample boxes, I was tired to hear another one repeating the same thing to me. However, things were not as what I imaged, this girl was different, she's well-bred, modest and courteous, this really made me a big surprise and these qualities of her also made us two friends beside being colleagues, even though now each of us has our own adventure and lives in a different part of world.
From a fashion PR to now the founder and designer of her own label,
[ FROM ], here below some chitchat that we exchanged on weChat (for whom who doesn't know what it is, it's the one and only messenger app. in China), read it now and hope you will like Bibi Du as what I do and make sure you've checked her items on our Shop!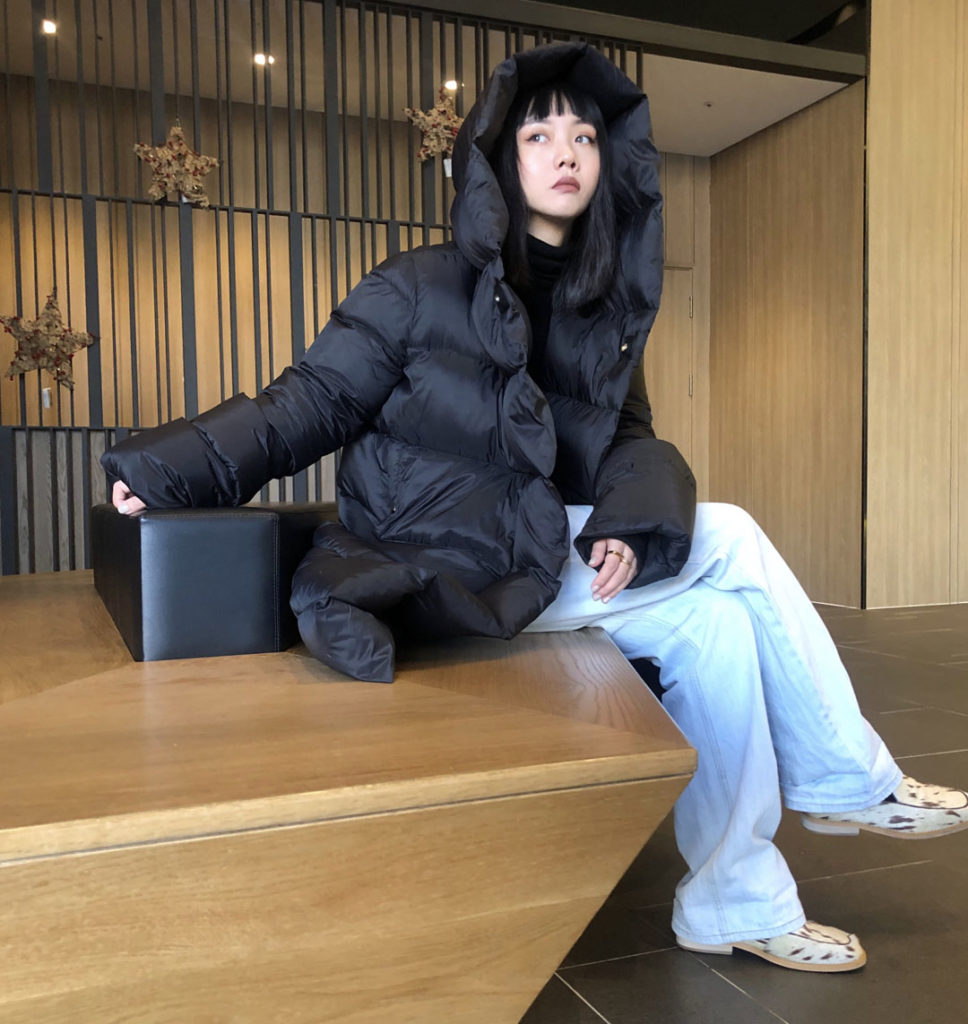 TELL US SOMETHING ABOUT YUO, WE ARE ALL VERY CURIOS ON YOUR STORY AND HOW [ FROM ] CAME TO YOUR MIND!
I've always been very interested in fashion and addicted to modifying my old or not suitable clothes since I was a child. I guess this may be related to my mother because she always made my dresses by herself, not that kind of kid's style but miniature version of adult clothes which in that age was not as popular as now. I was also the personal stylist of all my plush dolls, made their new outfits consequently and designed their hairstyle once a week!
After graduated in statistics from university, I started to work in local government as what my parents wished, that was a calm and stable job, dream of many people but not me. Good thing was that I had plenty of leisure time, so I started my freelance new media editor career in a fashion magazine, and that experience made me be more convinced of my love for fashion.
My second job was in the number one firm of stockbrokers in China, which was, let's say, professionally matched with my major in university. Good environment, perfect position, bright future, but after few years of work in financial, my dream and willing of working in fashion came more vivid than ever, I still remember the reason that I told to my boss when I resigned: I am going to do what I want to do.
I became a fashion PR after that, the intensity of work made me grow up very fast in a short time, lack of sleep and endless overtime made me feel tired of course, but I was still so happy and enjoyed in this job. Being a PR made me able to receive first-hand information and news of fashion, made me able to touch luxury brands' samples a season ahead and to feel and see the best quality of details and fabrics, what this job brought to me was not money or any vanity satisfaction, it was my enjoyment of beauty.
I love being a PR but building my own brand was always there in a corner of my mind, one day on my way back home from office, I saw a neon tube in a small bar and suddenly got an outline of my logo, immediately, the image of [ FROM ] became clear, and here we are!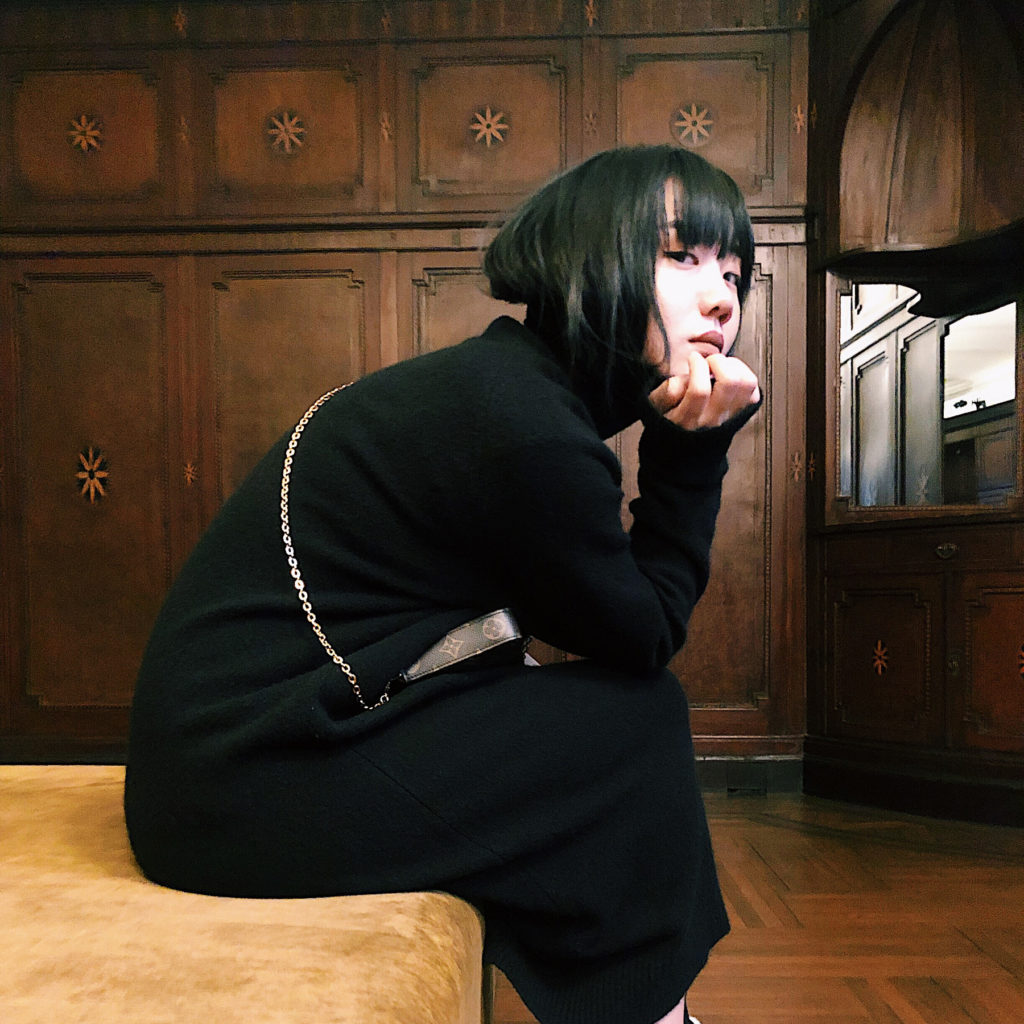 WHAT IS [ FROM ]?
I defined [ FROM ] as the connecting link between the preceding and the following. It's not only my brand nor one whatever piece of clothes, but a beginning of more ideas upcoming. It is a brand that everyone can wear and in their own way to create their own personal style and look, freely.
WILL YOU DEFINE YOURSELF A GAMINE GIRL? IT USUALLY SEEMS TO HAVE A BIT BOYISH HINT ON MOST OF YOUR ITEMS.
Well, maybe a bit but it's not all. My style often changes, and this is the way that I would like to present in my brand, some boyish pieces and some slightly elegant or sharp. I've always advocated the concept of girls wearing boy's clothes, so there's always at least one item in collection in this concept, normally I do it on outerwear like blazer or coat.
WE KNOW YOU LOVE ALL YOUR COLLECTIONS (OF COURSE!), BUT IF ONLY CAN PICK ONE PIECE, LIKE WHEN YOU HAVE NO SPACE ANYMORE IN YOUR LUGGAGE, WHICH ITEM WILL BE THE ONE NOT MISSED? AND WHY?
I would say pants! Any pairs of pants of [ FROM ]. They are really easy to pair with all other pieces and make my look, but tell you the truth, the main reason of this decision is that I can go anywhere topless (if really need to) but have to wear pants anyways (ha!).
WHERE ARE YOU COLLECTIONS MADE?
Currently all of my products are mainly produced in Shanghai and Zhejiang in China, although the production cost of factories in these two cities is relatively higher than other places, the technology of making clothes is more mature, the factories are more professional and experienced. Instead of cutting the production cost, I prefer to see the satisfaction from all my customers when they receive [ FROM ] garments.

DOES ANY CHINESE CULTURE OR LIFESTYLE INFLUENCE YOU ON YOUR CREATION?
Yes, of course! My country has a long and old history, there are so many ancient elements that often inspire me, such as old corridors, decorations, our traditional dress Qipao and even the perseverance of Chinese woman, all of these reflect to the spirit of my collection somehow. My mom is also my muse and the person who has enlightened my love for fashion. I remember she had various bodysuits, wool overcoat, leather gloves and no matter what, always wore curly hair! She was the most beautiful woman in my memory and taught me don't be afraid to play with fashion and
express one's own style.
WHAT'S THE MOST IMPORTANT THING THAT YOU CARE ABOUT FOR YOUR COLLECTIONS? FABRICS, DETAILS, COLORS, STYLES ETC.?

All of them! I follow personally the research of all productions, from design and fabrics to zips and buttons, I have a very strict requirement especially on fabrics and details because I believe these are the only two elements that a garment can be defined whether good or not.
WHAT'S THE MOST FRUSTRATED THING THAT YOU EVER HAD DURING CREATING A COLLECTION?
When I found and ordered the perfect fabric from supplier but got a note one week later that it was out of stock! This was really freaking me out because all had to come back again! Double time and double energy. However, as an ancient Chinese proverb — Luck and misfortune comes in turn, I found a replacement fabric in a second moment which at the end was even more perfect!

WHAT KIND OF GIRL IS A [ FROM ] GIRL IN YOUR VISION?
Any independent girl who has her own opinion. Girl who knows what she likes, needs, wants and is never influenced by other unnecessary people or opinions is a [ FROM ] girl.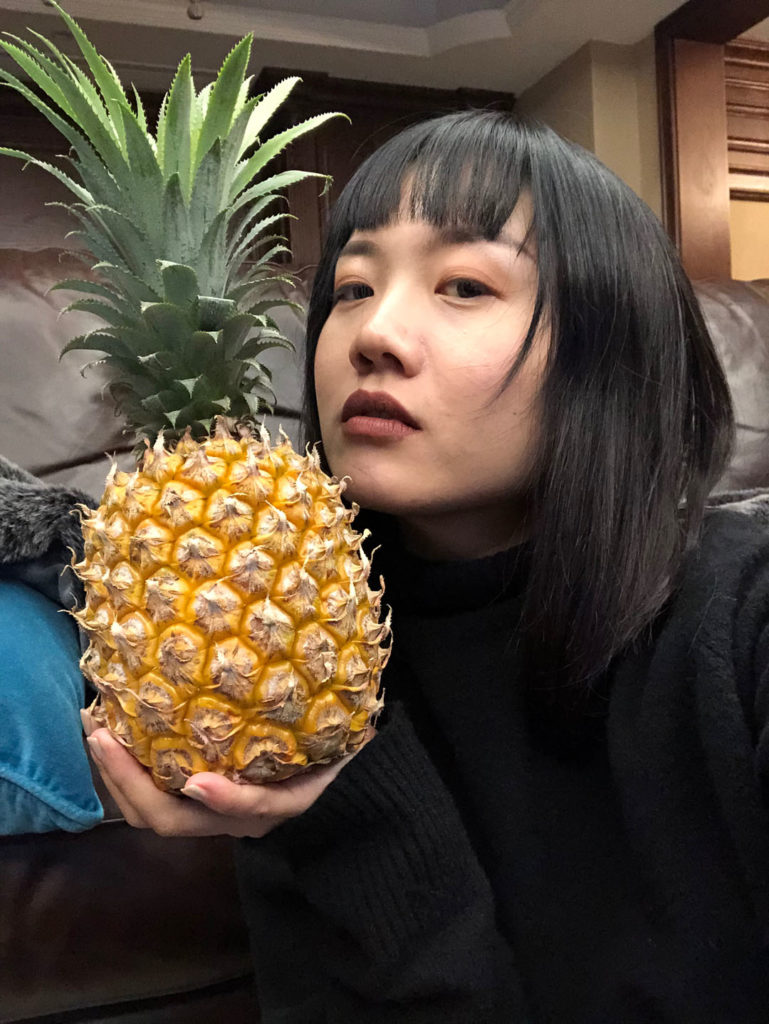 BACK TO A BIT LINK ON FRUFRUTTI, IF YOU WERE A FRUIT, WHAT IT WOULD BE AND WHY?
It must be pineapple! I REALLY LOVE its sweet but sour flavor, I feel it's quite similar to my own character — sometimes cute, sometime cool, you know!

π